When I grow up, I want to be like my 5 year old daughter.
I want to have her imagination, the ability to dream up magical worlds full of sweets, princesses and talking animals. High tea with imaginary friends, dance parties with Polly Pockets, and outfits consisting of sparkly fairy wings and bright pink crinolines.
I want to be lost in the innocence of naivety - seeing sunshine and lollipops through rose-coloured glasses. Dreaming of a future as an animal rescuer, princess, mom and doctor, and believing that I'm capable of doing it all and more.
I want to be a complete goofball like my little girl. To giggle until my belly aches and I fall to the ground, pink-cheeked and grinning. I want to make everyone laugh every time I say something, and to be able to tell intriguing stories that never end.
When I grow up, I want to have my daughter's youthful glow, her shiny virgin hair and silky porcelin skin. I want to have her limitless energy, able to run in circles until I can no longer catch my breath. Her fearless motivation to climb trees (right to the top) and to try new foods that may not look appealing to the eye at first glance.
I want to have her enquiring mind, her curiosity to know more and to be all-consumed when someone explains something new to me. I want to have her sense of inspiration when something new and exciting crosses her path.
I want to have her compassion, her selfless desire to help others and to take care of those who are younger than herself. Her acceptance and patience when constantly antagonized by her little brother. And most of all, I want to enjoy her all-consuming, unconditional love for her parents. Her unwavering knowledge that family is number one.
I may be older, and by the book I may be wiser, but when I grow up, I want to be just like my daughter, because although she is only five, there is already so much I could learn from her.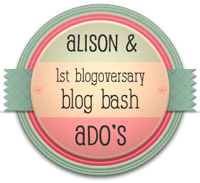 Linking up with my favourite Friday linky, #LetsBEEFriends
Adding this post to the 1st Blogoversary Blog Bash in celebration of the fabulous bloggers Alison and Ado
And also linking up with Mama Kat who provided me with this fun writing prompt through her World Famous Writer's Workshop